Product Installation:
1. Unscrew the Support Rod into the 2 pieces and remove the bottom screw nut. 

2. Hold the Support Rod Nut inside the camera tray and slide the short Support Rod on to the other side. Use the Allen key to tighten the short piece.
3. Insert the Allen key into the hole of the long Support Rod and connect it to the short Support Rod.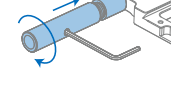 4. Unlock the Pro Focus Ring and Slide it on the lens. Ensure that the ring is sufficiently tight and make sure the lens has an unobstructed full range of synchronous motion.
5. Mount the camera and gimbal quick-release plate. Loosen Support Rod Fixing Clamp of Focus Motor and slide the Pro Focus Motor onto the Support Rod.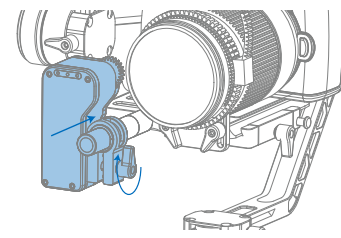 6. Use the Control Cable to connect the Pro Focus Drive to the RAGE3's Tilt Motor Data Interface port.
7. Connect the corresponding camera control cable to Left-side Data Interface on the Pro Focus Motor, and then the other end to the corresponding input on the camera.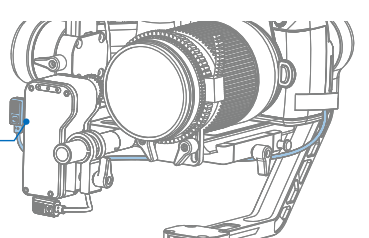 8. Adjust camera and stabilizer balance according to the EVO RAGE3 User Manual instructions. Make sure that the Pro Focus Drive is in the correct location and its outer gear fits into the Pro Focus Ring before adjusting the Tilt Axis.