1. CHARGE THE BATTERIES Charge both 26500 batteries with the provided EVO Battery Charger and the USB cable. This will take 2 to 3 hours.
2. INSTALL THE BATTERIES Unscrew the end cap, then install the two 26500 Li-ion batteries. To ensure proper ground be sure to tighten the end cap completely after battery installation, or the stabilizer will not turn on. Batteries need to be installed with the positive pole heading the arrow. direction as shown in the figure.
3. MOUNT ACTION CAMERA Mount the camera in parallel with the mounting plate, match the 1/4" Threaded Hole at the bottom of the camera with the empty slot of the mounting plate. Move the camera as close as possible to the Tilt Motor, and tighten the Camera Mounting Screw to fix the camera to the mounting plate.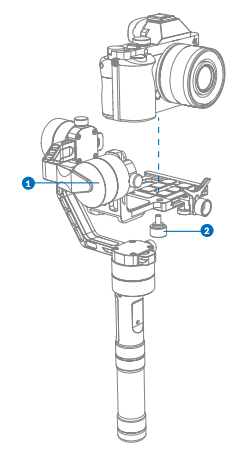 Warning ALWAYS MOUNT YOUR ACTION CAMERA BEFORE YOU POWER IT ON! FAILURE TO DO SO CAN DAMAGE THE UNIT!
Important Before mounting your camera please make note of your cameras total weight. You will need to know this in order to properly adjust the motor power settings for best performance. Please see pg. 24 of your manual for more details.
4. Balance Your Gimbal Please check our the article on how to balance your gimbal for further assistance on this step.  
5. POWER ON After the batteries are installed properly, press and hold the power button for 3 seconds to power on.
When starting up the stabilizer, please lightly hold the camera with one hand to prevent shaking of the camera if a malfunction occurs or the camera is not balanced properly.