1. CHARGE THE GIMBAL Connect the Micro USB Port on the side of the handle to any standard USB outlet or phone charger using the included Micro USB cable. Batteries take approximately 2-3 hours to fully charge. Shorter charge times can be achieved using higher mA rating AC/DC adapter.
2. MOUNT ACTION CAMERA 1. Extend the smartphone clamp. 2. Slide the smartphone in the clamp. Push it all the way until it touches the Tilt Motor pad then release the smartphone clamp.
Warning ALWAYS MOUNT YOUR ACTION CAMERA BEFORE YOU POWER IT ON! FAILURE TO DO SO CAN DAMAGE THE UNIT!
3. Balance Your Gimbal With the gimbal upright, begin balancing the Tilt Axis by slightly loosening the Tilt Axis arm thumbscrew. Slide the arm in or our until the smartphone stays balanced.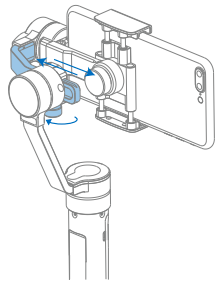 4. POWER ON To Power on the SP-PRO, Press & Hold the power button for 3-4 seconds, the motors will automatically power on in the Pan Follow Mode. To switch Modes, single click the Mode Select button to switch between Pan Follow Mode and Lock Mode. Double click the mode button to enter Pan and Full Follow Mode. See pg. 7 on manual for more information on the operating modes.