For the first use of your gimbal, please use the dedicated battery charger contained in the package to fully charge and activate the batteries to ensure the normal use of the RAGE3. 
Charging Procedure
1. Insert the batteries into the charger in the right direction (positive/negative end) accordingly.
2. Connect the charger to the adapter via the Micro USB cable.
3. Plus the adapter into the power outlet to start charging.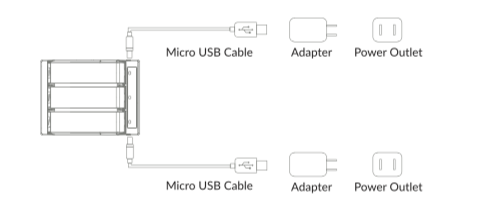 Something to keep in mind, there is a Micro USB 5V power input port on both sides of the charger, which supports one adapter or two adapters charging simultaneously (faster). This is optional (only one Micro USB cable provided) and you do not need to use both ports. One port (does not matter which side) will do.
Charging typically takes 2.5 to 3 hours when using one port and 1 to 1.5 hours when using two ports.
Powering On Gimbal
In order to power on the gimbal you will want to long press the power button (button with red dot) for 3 seconds. 
Standby Mode
In order to enter standby mode, you will want to long press the mode button in order to turn off or disengage the motors. The gimbal will still be on, but the motors will be turned off. This will help save some battery while in between shots.