1. CHARGE THE BATTERIES Charge both 18650 batteries with the provided EVO Battery Charger and the USB cable. This will take 2 to 3 hours.
2. INSTALL THE BATTERIES Remove battery end cap and install the Battery Extension Tube. Insert both charged 18650 LI-ION Batteries and screw battery end cap. Please make sure to tighten enough as even a bit of looseness will prevent the gimbal from powering on.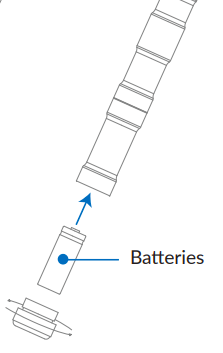 3. MOUNT ACTION CAMERA 
a. Unscrew the two thumb screws on the back of the action camera mount.
b. Slide the action camera all the way until it touches the Tilt Motor. Tighten the the two thumb screws. 
Warning ALWAYS MOUNT YOUR ACTION CAMERA BEFORE YOU POWER IT ON! FAILURE TO DO SO CAN DAMAGE THE UNIT!
4. POWER ON With the gimbal on a flat non-moving surface press the Power Button once and wait 4-5 seconds for the gimbal to initialize. You can then pick up the gimbal and impress and hold the joystick for 4 seconds to engage the motors. Once powered on, The EVO GP-PRO starts up in Pan Follow Mode. See page 7 of your manual for details on the other modes.